Your Dust and Messy Water Conditions Solution
By Met Zade, COO, 212 Carpet | Floor Tile Installation NY | The Flooring Contractor Magazine | Winter 2020
Commercial Tile Installation NY
For years Commercial Tile Installation NY has been a messy, wet, and dust-creating process in residential and commercial installations.
212Carpet is a Commercial Tile Installation service provider in NY of hard surfaces and soft surfaces, primarily serving New York City and the surrounding metro areas primarily in the commercial sector. In our 30+ years in business, dust protection has always been a top priority for our clients.
We consistently found ourselves battling dust on every job site. Our two major concerns were to make sure that our clients would still be able to function in their space even though construction was going on, and more importantly, to create a dust-free/ silica-free Jobsite that would be safe for our clients and installers' health.
NYC Commercial Tile Installation
Many of our clients would not allow wet cuts on the Jobsite due to the mess and dust that a typical wet saw creates. Thus, we would constantly be required to make tile cuts outside of the job area, which would require additional work hours and prolong tile installations.
Until we came across a product called iQTS244, this new saw proved to be our solution to dust and messy water conditions that have long been troubling commercial and residential tile contractors.
The iQTS244 tile saw is a dry-cut tile saw with diamond blades with a cool cut technology, which always provides precision cuts and dust control capabilities. The saw allows for dust-free job sites. The magic behind this saw is the Cyclone technology vacuum system that automatically kicks on when the saw is activated. What this does is the vacuum sucks all the dust and debris through the three-stage filtration system right into the dust containment tray as the cut is happening. The saw also features a laser line for guiding with precision cuts.
Carpet Tile Installer NY
One of our favorites add-ons for this saw is the vacuum hose kit. In essence, this addition turns your saw into a Jobsite vacuum, easily vacuuming your workspace and cleaning your tools at the end of the day.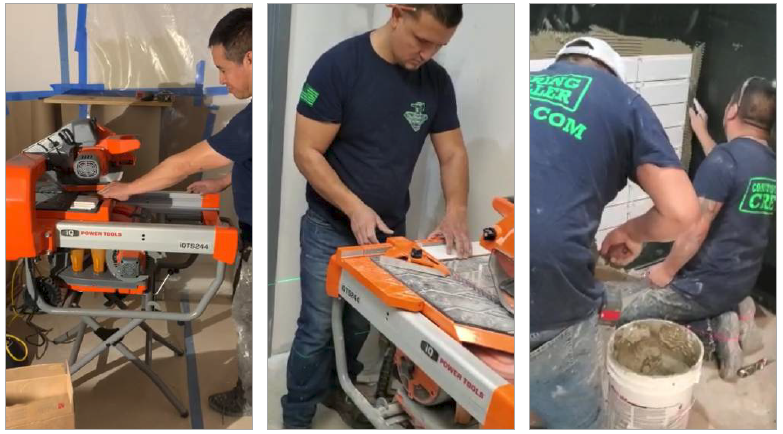 "At the core, this tool allows our teams to run more efficiently, saving a minimum 2-3 hours per day that otherwise would have been allocated for setup and cleanup."

At the core, this tool allows our teams to run more efficiently, saving a minimum of 2-3 hours per day that otherwise would have been allocated for setting up and clean up.
One of our more recent installations was for the Smithsonian museum in NYC, in which we tiled two staff ADA bathrooms. The iQTS244 proved to be essential for this type of project. A dust-free environment was essential for the client, and any mess was a major concern for the end-user (Museum). Due to the security protocols of the museum, running outside to make cuts was not a realistic option. Once we presented the idea of the iQTS244 and completed a demonstration of how the saw works and the reliability of the dust control, the client was convinced that we would be able to mitigate the silica dust and deliver a clean, dust-free, mess-free Jobsite from the beginning to the very end.
The iQTS244 has become our go-to tile saw for both our residential and commercial applications. Providing clean, dust-free, mess-free jobs from start to finish. The product can handle all types of tiles and stones with precision cutting while keeping our job sites dust-free and clean, the clients happy with no mess to worry about, and our employees working in a clean and safe environment, a win-win for all!