Carpet Installation & Flooring Installation - About Us
212 Carpet is a family-owned and operated carpet installation and flooring installation business located in Midtown Manhattan. We serve NYC, Brooklyn, and Queens.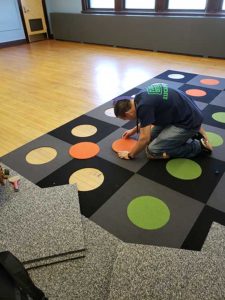 At 212 Carpet, we pride ourselves on professional commercial carpet installation, residential carpet installation, and all forms of commercial and residential flooring and tiles. We also offer flooring maintenance and cleaning services. Because of our experience, if you have a query on your existing flooring tiles or carpet, we have solutions. Because of the challenges posed by COVID-19, we are here to offer our guidance and options for keeping your carpet and flooring as hygienic as possible, so reach out with any questions. It may make sense to change your current carpet to one that offers easier cleaning and maintenance options.
212 Carpet's experts and cleaning methodologies increase the life of your heavy use area flooring so that your commercial carpet installation always looks as good as new.
We have been in business for over ten years, allowing us to develop relationships with many major suppliers. These suppliers include Empire Carpet, Armstrong Flooring, Mohawk Contract Flooring, and Shaw Contract Flooring, to name just a few. These relationships allow us to provide you with the best quality carpet to offer flooring installations at the most competitive price.
We offer a complete range of flooring options that include but are not limited to:
Carpet
Fabric
Rubber
Polished Concrete
LVT
Vinyl
Laminate
Hardwood
Cork
Bamboo
Stone
Porcelain
Ceramic
Other than carpet installation, we can offer various floor finishes accented with durable and stylish rugs to soften your floor space. Rugs also serve to dampen noise and put a finishing touch on a spectacular commercial or residential space. We work closely with your designer because your vision is important to us. Allow us to offer you our wealth of experience and expertise in carpet installation, flooring installation, commercial carpet maintenance, and cleaning. Call us with any questions you may have on residential carpet maintenance and cleaning, modern carpet and flooring, and replacement options. We have a wealth of ideas and options to make your next project beautiful and durable.
You can also check out our sister company site at 212paint.com for all your residential and commercial painting needs.