Nassau County Commercial Flooring
Quick, Efficient, & Affordable Carpet Installation in Nassau County
Did you know carpet tiles can be used in many ways other than wall-to-wall carpeting? These are versatile, creative, and affordable flooring solutions for residential and commercial flooring applications. Carpet tiles are interchangeable, elegant, and an excellent upgrade for any space.
Nassau County business owners and homeowners trust 212 Carpet professionals for efficient installations. If you are ready, choose your option and call us for adequate installations. If you don't, here's a quick look into the factors to help you decide.
Color
You can select a variety of colors, styles, and designs. But whatever you choose will impact your space's overall aesthetics and atmosphere. Pick products wisely to set the ambiance right.
Comfort
Your chosen carpet tiles must provide stepping comfort to avoid straining those walking all day long. It makes for habitable space in offices and homes.
Material
No two carpets are manufactured equal. Common fiber materials like nylon, polyester, and polypropylene impact the carpet's performance, feel, cost, and durability. The backing material like PVC, rubber, PVC-free, and foam determines its grip and toughness.
Durability
Be specific about what you wish to prioritize – style, durability, or both. If durability is your preference, pick a short, tight pile to withstand daily wear. In short, the density and face weight will determine the durability of your carpet tiles, ensuring a longer life.
Noise Level
Carpeting also muffles noise to a great extent. So it's an excellent flooring solution to maintain a quiet atmosphere. If that appeals to you, choose denser and plusher carpet tiles and further cozy up your space.
Cost
Budget plays a massive role in finalizing your options. Make sure to select a combination considering the costs of material, warranty, installation, cleaning, and maintenance.
Installation & Maintenance
Apart from choosing the right products, it is also crucial to hire professional carpet installers, such as the expert team at 212 Carpet. Working with our local specialists allows you to get the experience you deserve. We can also assist you with a practical maintenance schedule.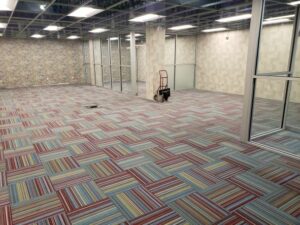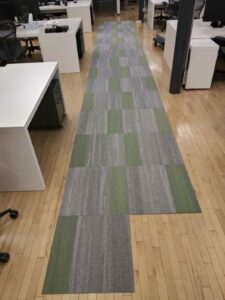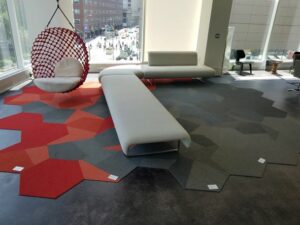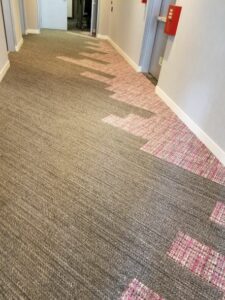 Call Us for Residential & Commercial Carpet Installations in Nassau County
At 212 Carpet, we understand that choosing, installing, and maintaining carpet flooring can be tough. It doesn't have to be so with us. Our team of experienced installers can help you choose the right product and install it accurately. We are a trusted residential and commercial flooring installer in Nassau County and surrounding areas, offering durable installation with minimal downtime. Call us today for a free, quick estimate.