Carpet Tile Installers for Your Brooklyn Offices and Homes
212 Carpet is a premier provider of affordable flooring options for residential and commercial applications. With a wide array of carpet tiles and mats, we can install a beautiful new floor inside your home or office quickly and professionally. We also offer professional carpet cleaning, tile installation, and other services to maintain your investment.
Looking for an affordable and high-performing way to update your home or office? 212 Carpet offers installation, cleaning, and maintenance services for carpet tiles. Tiles are easy to clean and offer a variety of colors and styles to choose from. Request a free quote today!
Finally, a durable and affordable flooring option for high-traffic spaces. Carpet Tiles are an easy solution to your flooring needs. These carpet squares are modular so you can design your own masterpiece to fit your space. They're easily accessible so you won't have to worry about anyone's foot getting stuck on the tacky glue underneath.
Carpet tiles are the perfect solution for any area of your home that gets lots of use. Whether it's a family room, living room, or kitchen, these durable and customizable flooring tiles will make your home look stylish and feel comfortable.
Carpet tiles are the perfect solution for families and pet owners who want to take care of their carpet, but still want that look and feel of a plush carpet. With the ability to choose from a wide variety of patterns and colors, you can create your own custom design that's perfect for your home.
Carpet tiles are the perfect way to save money without compromising on the look and feel of your home. Just a fraction of the cost of broadloom carpet, ceramic, or vinyl, these small individual carpeting tiles come in hundreds of colors and styles. Whether you want something contemporary or traditional with patterns or solids, there's a perfect tile for every space.
Should I Choose Carpet Tiles?
Looking for a new flooring solution for your home, but don't want to spend too much money? Carpet tiles are the perfect fit. They are cost-effective and easy to install. The tiles are also durable and can be replaced when needed. With their comfortable padding, carpet tiles also reduce noise and provide comfort. In addition, the tiles add vibrancy to any space.
Carpet tiles are a great way to replace your old carpet for a quick, convenient, and affordable remodel. They're easy to install and remove, which means you can change them as often as you want. They also provide comfort, thanks to their soft surface, and they muffle noise so you can have conversations in any room.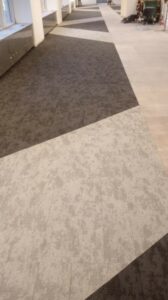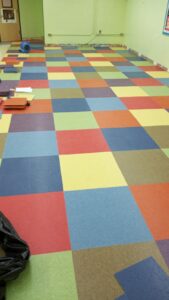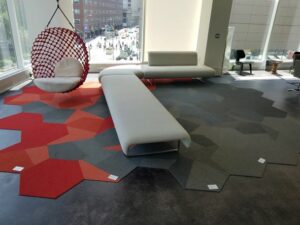 Contact Our Expert Flooring Installers Today
Need a new, affordable, and stylish floor for your Brooklyn property? Concrete, hardwood, or resin may be popular choices. But what's even better is carpet tiles that are reliable and resistant to commercial and residential wear and tear.
In addition, regardless of your location, you can count on us for your residential and commercial flooring needs. We offer carpeting installation and maintenance tailored to individual preferences. Get in touch with our specialists today for an accurate estimate or more information.